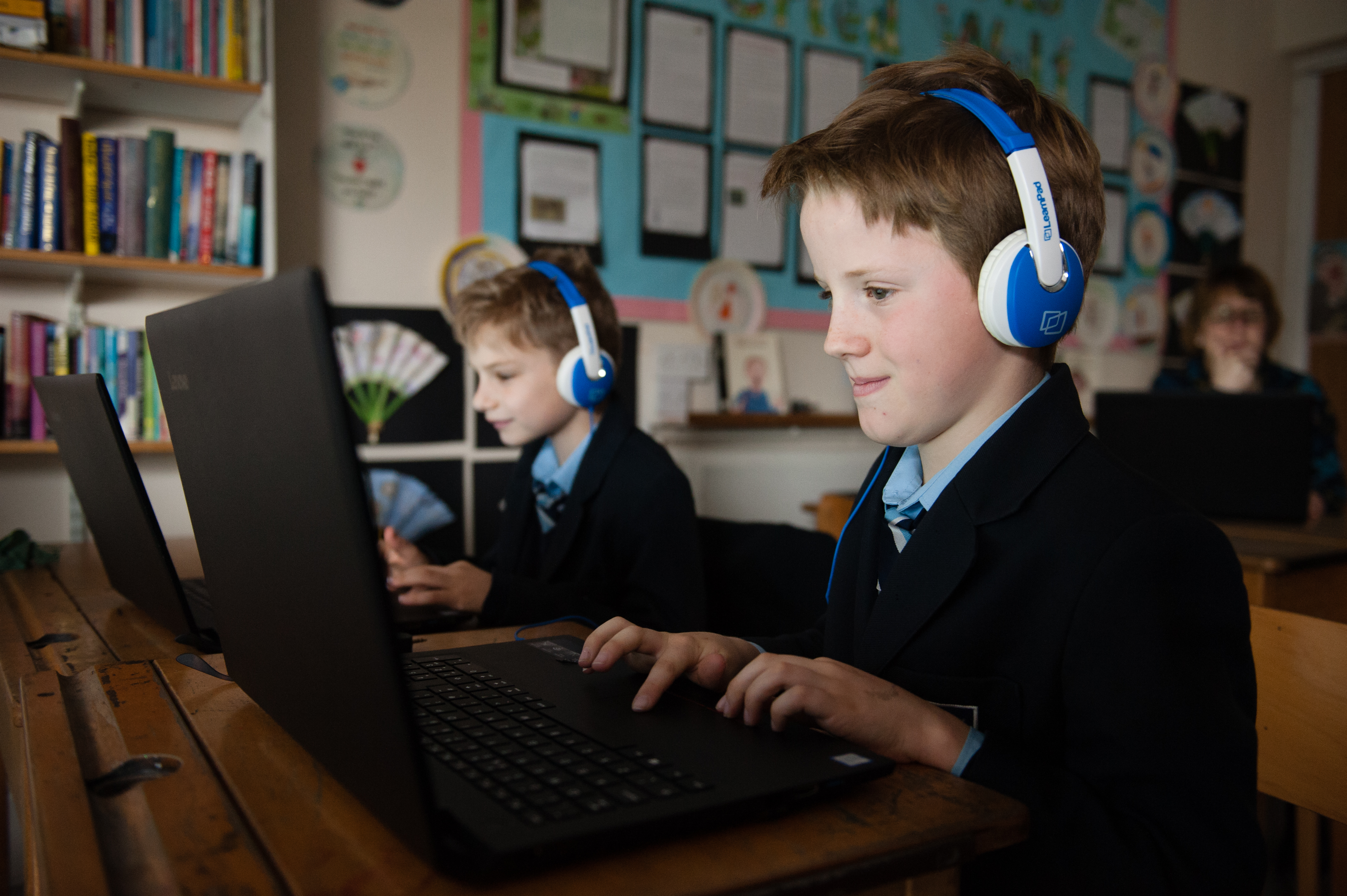 A day in lockdown at Hopelands
We are in week 5 of virtual learning at Hopelands Preparatory School and after late nights for teachers who were busy exploring the world of Microsoft Teams, school life has started to settle down. Children are adapting and embracing this new way of learning.
Although all year groups are following the online timetable, each class has modified it to ensure the sessions apply to their children's strengths and learning needs. Here is a typical day for our 7-8-year-old pupils in Year 3.
8.45 Morning registration & presentations
Pupils log onto the system and mark themselves in. They see their teacher and class friends and wave with a smile and a hello.
Pupils are given the opportunity to do a presentation to the rest of their class. They take turns to write a PowerPoint on a subject/hobby and upload it which enables everyone to see it. This is a great way for them to practise their presentation and communication skills and further develop their self-confidence. Today's was on the exciting event of chickens hatching. The presentation was brought to life with plenty of pictures of eggs 'rocking and rolling', resulting in fluffy chickens. Pupils are invited to ask questions and discuss in more detail.
Afterwards the class has a general catch up where they share how they are feeling. In these unprecedented times it is more important than ever to enable interaction and discussions which support positive mental health.
9.30 – 12.30 Lessons
Subjects covered, on different days are Maths, English and Science, and the lessons are split into mixed ability groups. The teacher sets the work and the pupils are encouraged to share ideas and ask questions to each other within their groups. The teacher spends time with each of the groups, listening to them read to each other and discuss thoughts. Towards the end they all come together to share what they have learnt.
13.00 – 16.00 1:1s
The afternoon is spent on 1:1s. Every pupil has 30 minutes each with the teacher every 2 days. Work is reviewed together to check their understanding. The teacher will also listen to them read. Marking is done with them in real-time, the teacher reads their uploaded work and then directs the pupil to edit and review it. Marking together has been immensely beneficial to both the teacher and the pupil. For pupils not on a 1:1 they can choose how they spend this time. This can be catching up on work from the morning, reading, playing sport, doing a creative activity or having fun with their families.
It's a busy day for our teachers but at the heart of all this is the children so we asked them what they thought of it.
What do the children think?
'I am really enjoying the virtual learning particularly the Science experiments as they are a mixture of work and fun. My favourite one so far is testing daisies in different coloured water to see if they change colour in different temperatures. I'm hoping the blue wins…'
'I love the online teaching.  The lessons are great although some of the work is hard and I definitely enjoy the interaction. We all get a chance to put our ideas forward and I really enjoy the early morning presentations. I love seeing and interacting with my friends and my teacher. I feel "happy and cheerful and good" about the online classes. I really enjoy that we can go into our own groups and really like the one to ones and being able to talk to the teacher and ask questions.'
And behind every child is a family who is helping and supporting. Here are some of their views:
What do parents think?
'The family has enjoyed being back in the classroom and I have enjoyed experiencing the class interaction and dynamics first-hand. I must confess, there has been an improvement in my learning and understanding of the key subjects. How times have changed…'
'Our IT skills have improved enormously during the past three weeks and we have experienced working in virtual groups and navigating our way round Microsoft Office. The teachers have helped enormously by providing clear instructions and adapting the procedures regularly to help facilitate the process.'
'The Y3 children are supported by the 1:1 teacher and student sessions. These events take place periodically and allow for valuable time to discuss the day's events and help to keep the children focused and motivated.'
'Overall, we are finding the process enjoyable and manageable.'
'As a parent, these daily lessons have made an amazing difference to my child's attitude and outlook. Before they started, they were very low in self-confidence and we had a lot of tears and upset. However, she is now back to her usual self and going from strength to strength!  Being able to interact with friends has been wonderful and she has found the work the teacher has set incredibly inspiring and has wanted to do more things outside of class as well. Like everyone we have our good days and bad days, but the lessons really help to keep a structure and balance in these uncertain days. I can't really express how thankful I am to Hopelands, and her teacher in particular, for putting these lessons together – they have really helped and made her so much happier and self-confident it's been a joy to see.'
To find out more about Hopelands Preparatory School call us on 01453 822164 or email scompton@hopelands.org.uk