Alumni
Ellie Marsh
Hopelands Preparatory School has a nurturing, supportive environment that enables each child to become resilient, confident young people. We provide the ideal platform for the challenges in life that lie ahead. Many of our pupils build on friendships formed at Hopelands and become friends for life. We are always delighted to hear from our former pupils and we recently received a lovely email from Lisa Marsh. Her daughter, Ellie Marsh, joined Hopelands in 2007.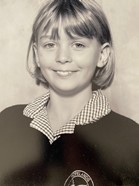 'Ellie transferred from another school where she had not been making good progress and this had impacted her confidence. Coming to Hopelands changed all of that because it gave her a safe place to flourish and during her time with you her confidence grew immeasurably.
Fast forward and I am so pleased to let you know that she is off to Liverpool University to study Medicine. A big commitment and a career choice that is going to make a real difference. Without doubt her time at Hopelands contributed to this outcome and influenced her to become the person she has grown to be. We are very proud of her and know she is going to make a great doctor.
Thank you to the team at Hopelands for the important role you played. Hopelands is a very special place. Here's to all of those other Hopelands students making their own unique mark in the world and those whose time is still to come!'
The staff are thrilled to hear how well Ellie is doing. Mrs Bradburn, our Head Teacher, remembers her fondly as a hard working, conscientious, quiet and happy girl. We are sure that Ellie will go on to have an amazing career and make a true difference in the world. Hopefully, she will come back to school one day as the children would love to meet and hear from such an inspiring role model.
To conclude in the words from Ellie's mum:
'Ellie's story is a great illustration of the importance and the value that comes from creating the right environment to help young people flourish not only academically but personally.  For us these are the things that will always be the Hopelands USP.'