Curriculum
We pride ourselves on the quality of our teaching. Our staff are all experienced professionals who are totally committed to the Hopelands ethos and who believe that to nurture each child is to build confidence and a love of learning. We successfully combine traditional teaching of core subjects - English, Science, Mathematics, Geography and History - with a modern approach to new subjects such as Verbal Reasoning, Information and Communication Technology and Design Technology.
Small class sizes and dedicated specialist teachers ensure that the needs of all pupils are met both academically and socially. We aim to inspire our children in all aspects of life and show them that the school motto "I Can, I Will, I Do" can lead them to being happy, successful and confident young people of the future. We focus on encouraging enthusiasm and a sense of purpose in all children. Children participate in regular field trips, activity holidays and sports matches.
We have specialist teachers in English, science, mathematics, music, art, dance, drama and PE. Hopelands has been recognised by the Arts Council, who awarded the school with Gold in the highly acclaimed Artsmark Award. We have won several awards at the Cheltenham Festival in recent years with performances from our choir and drama groups. The children also collaborate with a local special needs school in the Stroud Dance Festival every year which always receives a standing ovation.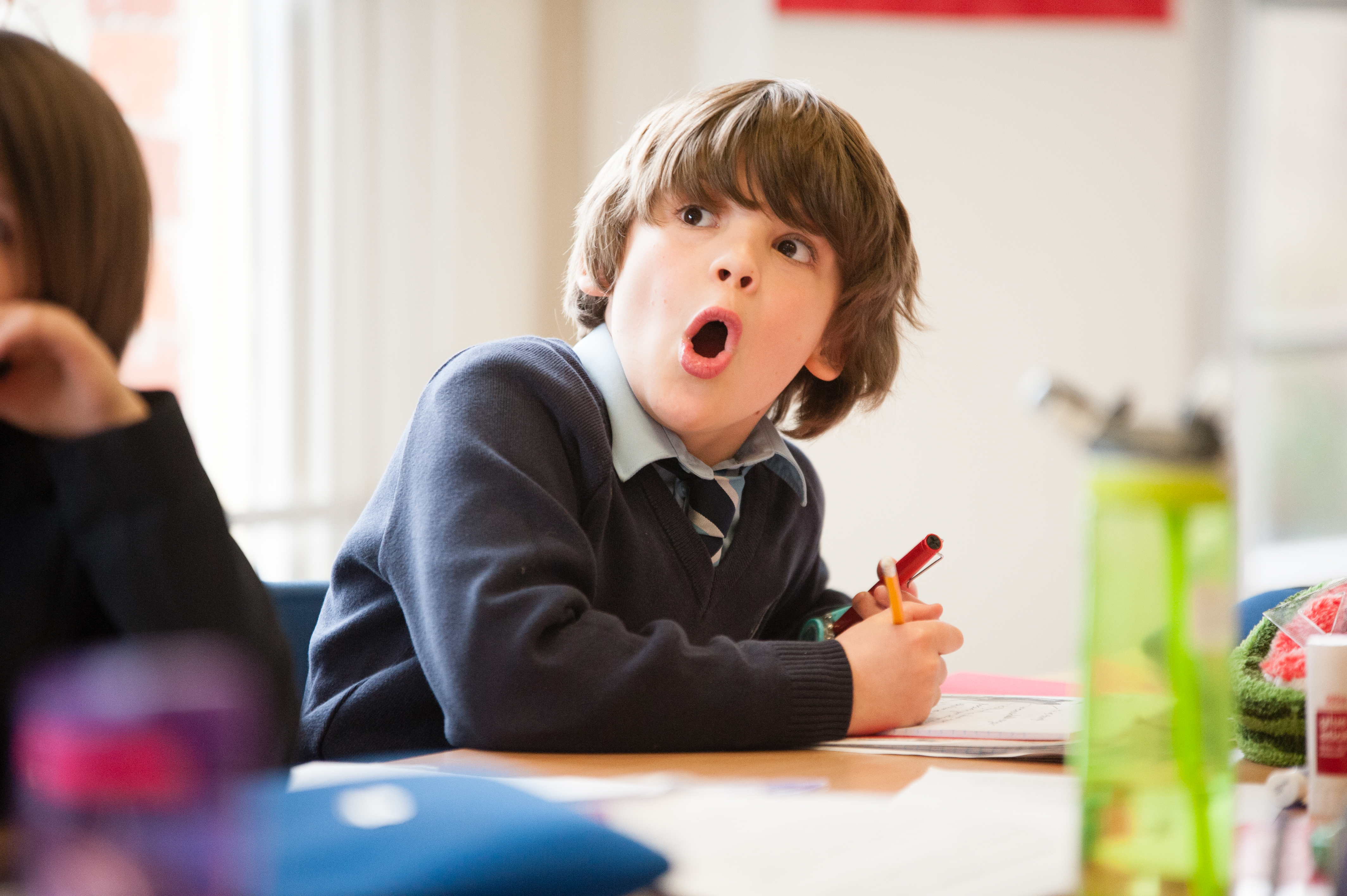 English
Hopelands offers a wide variety of teaching strategies and approaches to our English curriculum. From the Early Years through to Year 6, our pupils are encouraged to read quality texts that will ignite their enthusiasm and develop their flair and passion in speaking, listening, reading and writing.
We celebrate the spoken world through choral poetry, modern and classic poetry and Shakespeare. We regularly perform in assemblies to each other and to our parents. Cross curricular writing opportunities are enhanced by regular field trips, museum visits, guest speakers and drama workshops.
Maths
Maths is taught by the form teacher at Key Stage 1 and specialist teachers at Key Stage 2. We believe that maths is a broad subject that goes beyond the learning of facts and processes. We encourage children to be independent, creative thinkers and problem solvers. Maths investigations are included regularly in lessons and children accept that mistakes are part of learning. Children are encouraged to take risks and explore their potential. Our belief is that everybody can enjoy and be good at maths.
Science
We consider science to be a core subject. It is taught for two hours per week by form teachers at Key Stage 1 and by specialist teachers at Key Stage 2. Our aim is to equip children for their next steps in life by offering a wide range of experiences in the three core science subjects  - physics, chemistry and biology - beyond national curriculum requirements. Children do practical work and are encouraged to work scientifically. We frequently take part in external science workshops, challenges and demonstrations.
Geography and History
Geography and History are taught throughout the school as independent subjects for an hour a week each. Children are taught the key skills of enquiry and interpretation through a variety of topics. Visits are a key element of the subjects and enhance the children's overall enjoyment and learning experience.
Sport and PE
At Hopelands a wide range of sports are taught including netball, football, tag rugby, basketball, hockey, lacrosse, aerobics, fartlek, cross country, bleep test, circuit training, swimming, gymnastics and athletics.
Hopelands competes in many tournaments and matches at both district and county level during the year. We often win trophies and medals, including recent district trophies for cross country and netball, plus medals at swimming. Playing friendly matches against other schools allows all children, of all abilities, to participate. .
At the heart of our sports teaching is the consistent focus, using fun techniques, on foundation work. This ensures that physical and sporting development, interlinked through a wide range of sports, will continue not only while at  Hopelands but on through senior school.
We enjoy nurturing each child's self–belief and their growing self–awareness of both their physical and mental strengths and weaknesses. We take pride in each pupil's individual progress and their journey through sport.
Art
Our art curriculum creates an environment where pupils develop their observational and imaginative powers – and this is reflected in both two and three-dimensional work. Hopelands has been recognised by the Arts Council, who have awarded the school with Gold in the highly acclaimed Artsmark Award on a number of occasions.
Dance
We encourage all children to participate in dance and Years 2 – 4 receive an hour of dance tuition per week covering a wide range of dance styles. We also regularly put on our own dance productions and, represent the school, Year 6 take part in an integrated annual dance festival together with local special school, the Shrubberies.
At our after school dance club, pupils can contribute their own ideas and choreography.
For further information see our club list.
Morning and after school care are offered on a flexible basis: no booking is necessary.  When a child attends a club after school there will be no further charge for any continued after school care until 5.30pm.  Collection after 5.30pm will incur a late fee.
Information Technology
ICT at Hopelands is taught throughout the school for an hour a week and is also incorporated into other subject areas as much as possible. By the time students reach Year 6, we aim for them to be competent with computers and know how to effectively use them for presentations, researching, storing data and much more.  
E-safety is very important in our curriculum and we aim to ensure that pupils are aware of the dangers when using the internet and as a result, know how to navigate it safely.
An exciting addition to our ICT department are our new Learn Pad tablets. These offer students the chance to learn how to use basic coding programs and other applications which support all subjects areas.
Design Technology
We aim to prepare children for participation for the rapidly changing technologies of the future.  Design and technology will provide children with the tools to deal with problems they may meet in everyday life.  
We meet the requirements of the National Curriculum in Design and Technology by providing a balanced programme where children have experiences involving structures, mechanisms, food technology, materials and textiles.  Tasks are wide ranging, from creating healthy food to investigating simple mechanisms, but all support our individualised creative curriculum.
RE and PHSE
RE
Religious studies is the academic field of multi-disciplinary, secular study of religious beliefs, behaviours, and institutions. It describes, compares, interprets, and explains religion, emphasizing systematic, historically-based, and cross-cultural perspectives. Religious studies tries to study human religious behaviour and belief from outside any particular religious viewpoint. It is policy to give all pupils equal access to the subject for as long as feasible during their time at Hopelands School. It is hoped that the subject is taught in a manner and with the effect that it leaves all pupils with a sense of identity and belonging, preparing them for life as citizens in a global society.
Spirituality
 All children in the school are encouraged to explore and foster and awareness of their own spirituality. This is done through class discussion and also through the introduction of an annual Spiritual Arts Competition, whereby all pupils participate in answering a spiritual question in a creative, artistic way, be it through art, design, sculpture, poetry, prose, photography, or whatever approach they choose.  The results should reveal a progression through the school as younger children relate the topic to themselves; older children to the world around them; and the eldest and most mature children are able to relate it to the intangible.
Children are encouraged and given opportunities for reflection. This includes Reflection Diaries on core values, specifically Wisdom, Respect, Compassion, Forgiveness, Courage, Creativity, Friendship, Generosity, Hope, Humility, Justice, Peace, Perseverance, Responsibility, Service, Thankfulness, Trust and Truthfulness.  Reflection includes three areas: Children consider what these things look like in the world and who they think has shown this, for example through media stories in What's the Story? (window), look at their own actions and attitudes (mirror) and how they might change or be affected by their reflections if they need to show a particular value in their behaviour in the future (door).
PHSE
Comprises all aspects of schools' planned provision to promote their children's personal and social development, including health and well-being.
Identity (their personal qualities, attitudes, skills, attributes and achievements and what influences these) 
Relationships (including different types and in different settings) 
A healthy (including physically, emotionally and socially) balanced lifestyle (including within relationships, work-life, exercise and rest, spending and saving and diet) 
Risk (identification, assessment and how to manage risk rather than simply the avoidance of risk for self and others) and safety (including behaviour and strategies to employ in different settings) 
Diversity and equality (in all its forms) 
Rights (including the notion of universal human rights), responsibilities (including fairness and justice) and consent (in different contexts) 
Change (as something to be managed) and resilience (the skills, strategies and 'inner resources' we can draw on when faced with challenging change or circumstance) 
Power (how it is used and encountered in a variety of contexts including persuasion, bullying, negotiation and 'win-win' outcomes) 
Career (including enterprise, employability and economic understanding) 
Hopelands holds the GHLL Healthy Schools Accreditation.
SMSC
Through cross-curricular opportunities including lessons, assemblies, sport, art, projects, excursions and throughout school life, the school ensures there are opportunities to broaden the children's Spiritual, Moral, Social and Cultural growth, as defined by Ofsted 2015.
Spiritual
Explore beliefs and experience; respect faiths, feelings and values; enjoy learning about oneself, others and the surrounding world; use imagination and creativity; reflect.
Moral
Recognise right and wrong; respect the law; understand consequences; investigate moral and ethical issues; offer reasoned views
Social.
Use a range of social skills; participate in the local community; appreciate diverse viewpoints; participate, volunteer and cooperate; resolve conflict; engage with the 'British values' of democracy, the rule of law, liberty, respect and tolerance.
Cultural
Appreciate cultural influences; appreciate the role of Britain's parliamentary system; participate in culture opportunities; understand, accept, respect and celebrate diversity.
Music
Through specialist teaching we aim to provide all pupils with a rich musical experience through performing, composing, listening to and appraising music. We have won several awards at the Cheltenham Festival in recent years with performances from our choir and musicians.
All pupils have the opportunity to learn a range of instruments from drums to the piano.
For further information see our club list